Hey there, welcome to From Two to Four!! If you are new here you can read all about our little family of four including cute pics of twins! Make sure you let me know you visited so I can come and visit you too!
Warning I will be slow on blogging this week due to hubs being out of town at a training, so I am flying solo with the twinsies this week! EEEEEEK! Wish me luck!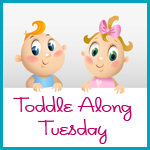 Head on over to
Our Growing Garden
or
Growing Up Geeky
to link up and meet some new mommy bloggy friends!!