Welcome if you are from Toddle Along Tuesday!!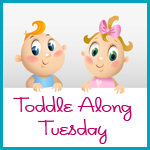 This was the first weekend that we were not required to be ANYWHERE on Saturday, it was so nice to wake up and play with the babies and not be rushing out the door to be somewhere. Saturday we just lounged around and cleaned the house which was a mess from not being home the last few weekends or having parties at our house.
On Saturday we ran a couple quick errands to pick up some crafty items at Jo Anne's. I saw this adorable pattern for a pillowcase dress that I showed my mother in law who is a sewing master, Ava needs I mean NEEDS these for summer, plus I can just throw a long sleeved top under and use into the fall. Just look at this it's adorable!!
After, my sister and I headed over to World Market to look around, she is moving into her own apartment and has been bugging begging me for my mattress so I decided to make a deal to make my home office more of an office and less of another bedroom with a giant queen bed. When we bought our house we upgraded to a king bed so we put our queen in our "guest room" but it pretty much takes up the whole room. So she purchased this sleeper sofa and I'm letting her take my mattress. Good deal really!
Sunday we had a little party to celebrate her graduation. Family, food, and friends, you can't really ask for a better way to spend a Sunday!
Well that's about all I've got for you today! I hope everyone had a great weekend!