So ladies, in planning this event I have realized I have another event September 9th.
Here is where you come, yes you who is reading this. I would love for some of you to do a guest post. This way instead of just checking out for the week and being a slacker, you will all stay entertained. No real rules or specific posts in mind, just whatever you want to write about.
Please leave me a comment below if you would be interested in doing a guest post. It would be needed for the week of September 5th.... don't let me down ladies!

Also it's Toddle Along Tuesday!! If you are new here welcome!! I try my hardest to follow back so please if you are new reader I would love to read your blog as well, so make sure to leave a comment down below so I can find you!! Hope you all are having a GREAT Tuesday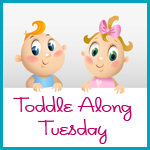 And if you're feeling generous! Click and vote for me please & thank you!