YAY! It's Tuesday again and that can only mean one thing...well besides the fact that I have tomorrow off!, It's Toddle Along Tuesday hosted by
Kristen
and
Mama G
. Thanks girls for all you do to bring us mommy bloggers together!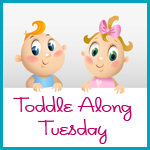 If you are new here, welcome, I am a young mommy to boy/girl twins who are about to turn 15 months. They are absolutely amazing and I love being their mommy. If you leave a comment letting me know you were here I can make sure I follow you back!
I don't have a lot to say today but later this week I have a couple of blogger awards to tend to thanks to
Melissa
over at The Mommyhood Chronicles and
Andrea
from The Mays Twins!
Hope you all are having a great Tuesday!