It's Tuesday again and that means it is Toddle Along Tuesday over at
Our Growing Garden
and
Growing Up Geeky
. Thank you Kristin and Mama G for putting this together every week. I have met some awesome bloggy mamas through this blog hop and it is so fun to meet people who are at the same stage of life as we are now.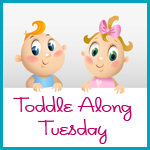 If you are new here, welcome! Please let me know if you decide to follow us as I love to return bloggy love and will follow you back.
Also I have a giveaway going on right now for reaching 100 followers! You can go to enter
here
for a $25 giftcard to Starbucks!!
Thanks for stopping by!